DP 5.3 DRAWER PULL SAFE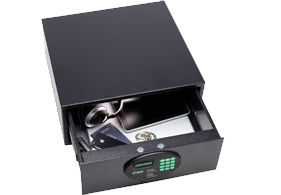 Designed for case good installations as an alternative to top-open drawer safes, Safemark's Drawer-Pullout DP 5.3 provides the ultimate guest experience with advanced glides for effortless use. Your guests will have quick, top access to their valuables along with an integrated keypad that is both tilted and illuminated for easy viewing. The DP 5.3 accommodates a 17-inch laptop with ample space for purses, cameras, iPods and so much more. With the DP 5.3, gone are the days of problematic hydraulic arms, sagging drawer safes, and damaged furniture.
Operationally, the DP 5.3 and the industrial strength Emergency Handheld Override (EHO) are easy to learn and simple to operate. Hotels looking for added security often select the Medeco UL-rated fail-safe override key system. As an added peace of mind, all Safemark safes include a limited 5-year manufacturer's warranty and an exclusive $10,000 warranty against forced entry.
Safe Features
Illuminated ADA Compliant Digital Keypad
Enhanced LED Display
Audio/Visual Operating Signals
Emergency Handheld Override (EHO) for emergency battery override and safe openings
240 Event Audit Trail recording full identity of authorized users (records both opens and closes)
Self Diagnostic System with low battery indicator (one touch)
Motorized Locking System
Heavy duty glides
Easy Access Battery Cover (powered by AA Alkaline batteries)
Security Cable attaching the safe to furniture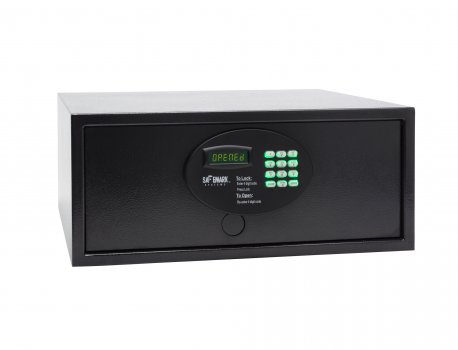 Safe Options
UL-Rated High Security Medeco Fail-Safe Override Key System
Custom Key Cover
Tamper-proof Installation Hardware
Internal Power Supply
Optional Card Swipe for Safe Opening and Locking Operation
SafeCom Wireless System
Black or Custom Colors
Safe Construction
1/16 inch (4mm) Cold-Rolled Steel Door
Two 3/4 inch (19mm) Diameter Steel Locking Bolts
Scratch Resistant Powder Coat Finish
Recessed Door Provides Additional Security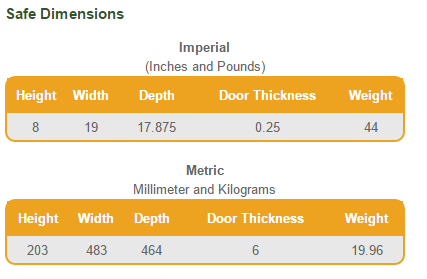 ---